Big Dog's Kioti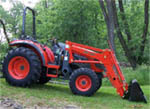 Do you want your tractor on our front page?
PM Doc for details


Off Topic Forum Fun For Everyone


Interested in running your own PRIVATE forum? You choose the subject, You choose who to let in.
These forums are hidden from the public view.

There are a dozen of these type of forums currently active on Forums Forums. As a regular member you don't even see them.


For more info Email the forum Admin.


The best sites are not created and run by one person. It takes a team of special people to make everything work.
My Sincere THANKS goes out to all the moderators who help in making Net Tractor Talk a place to find quality tractor information and a fun place to visit.
THANKS GUYS!!!!!


Net Tractor Talk

What is Net Tractor Talk .com?


Let's talk. That's what NTT is all about. Whether the topic is tractors, implements, repairs, or accessories, we offer a fun place to talk openly without being overly moderated. Started with only a handful of forums and participants, NetTractorTalk.com has grown to over three hundred members with over 20 forums covering a wide variety of tractor and related topics. The brand specific forums provide valuable advice that would be hard to come by anywhere else. If you have a question concerning your tractor, implements, technical info on how to accomplish various tasks, how to use your equipment, what tool is best for certain types of jobs, etc. . there is probably a NTT member that can help. Or maybe you could be one of the experienced members who have the answer to other members questions. It's fun to share experiences on Net Tractor Talk. Come inside and take a look around. If you like what you see, become a member. Membership is FREE and offers many advantages including being able to view images, and you could even post pictures of your own. You will also have access to PM's (Private Messages) and the New Posts button that allows members to easily navigate through all of the most recent posts and stay current with all that goes on in the NTT universe. Here you have it - a place where you can come and talk about all things tractor - lightly moderated and without the worries of pop-ups, spyware or adware. This is a family friendly forum, everything is PG13 or better. We have a short list of serious rules - be civil and have fun. So, why not become a member and join the conversation? Hopefully, we'll be talking soon on NTT. I hope you will be an active participant on NTT. Doc Forum Admin
visit our
Net Tractor Talk Forum Community

Net Tractor Talk Proudly Presents
Carbon Media TV


visit our
Forum Community

For more Forum Fun visit these Forum Buddies::

NTT Moderator Team:
BCZoom
Big Dog
California
Jim Slagle
Jwstewar
OhioTC18
PBinWA


Featured Links

Tractor Resource Links

Hosting & Web Services

Our Friends: Markham Welding